Moderators:gds, bakerjw, Dolomite_Supafly
115g cast bullets for 300 BO
Is anyone loading 115g cast for 300BO. I have Lyman mold 311359. I was thinking about powder coating some and trying them but I don't have any load data and I'm not even sure it's a feasible option.
---
I have the Lee 115 gr RN mold that we have cast and coated several hundred. Originally used in a single shot, both subsonic and super, they worked out fine. When I bought my RARR and tried these stubby little rounds, they just would kinda feed with some finger help. In the AR pistol, they really will not feed from the magazine. I will admit giving up then and not bothering to play with OAL to try to find a path to success. In the 300 BLK world, their are just so many other combos to experiment with, thus I went down the rabbit trail
Pretty much still playing in the lab with experiments.
---
I actually got this bullet to feed, but there were other issues. Mostly the feed ramps tore up the nose and accuracy was terrible.
Then there were issues with cycling the action. Trying to stay around 1500 fps was just too low of pressure.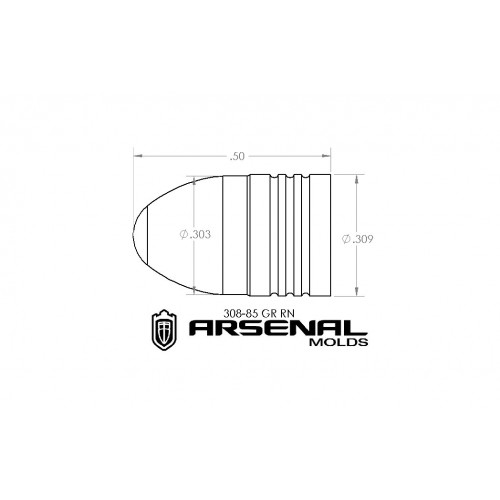 Might have to try it again now that a couple new powders have hit the shelves.
The full round nose is very helpful.
300 Blackout, not just for sub-sonics.
---
If you cast with hard alloy and push them hard that mould should work. Like the 110 vmax, have to seat way out to try to fill the freebore. Lube grooves are a problem. I run a slick sided 145gr cast @2k fps OK.
---
I cast a 120gr SWC-GC bullet for 30carbine that works great! Using a 5-cavity NOE mold that copies the Lyman 311316 mold. When I add the gas check I size to .308 though you could size to .311 if you wanted to. I use the same bullet sized to .314 for 327Federal Magnum as well. Could powder coat them then add the gas check and push to whatever velocity you really want. I use a 3% antimony hardcast lead and then temper them even harder by dropping into water when they come out of the powder coat oven. I like a high gloss (95%) powder for powder coating 230gr .308 bullets and velocities are more than 100fps faster than same powder load with jacketed bullets.
---
I know I'm kinda late to this site, but you might want to go the other way. Instead of getting it to cycle your semi auto, try downloading it to catsneeze velocities, around 1,000fps or under. If you go that route, I'd strongly suggest using fast pistol powders, like from Bullseye to Unique. I'd suggest a starting load of 5gr Bullseye to begin with. If you decide to go that route, I'd also suggest getting a light recoil spring to make it much easier to hand cycle your semi, 'cause it you don't after a 20 to 30 rd mag, your fingers are gonna be sore! HTH
---
Silent But Deadly
Posts:161
Joined:Tue Jul 14, 2020 11:08 am
After much experimenting with these, I have them running reliably. Filthy as can be. You have to be okay with an extremely dirty rifle. But you can run these reliably as one of the most inexpensive subsonic loads that will run in a semi. I use Reloader 7, but the charge isn't published anywhere so I don't want to post it. I do think some other similar powders will work that I believe are published for 110 grain loads on the sierra site. But load with unpublished charges at your own risk.

The key for me was a combo of RL7, a lightweight BCG with Tubbs flatwire 300 aac spring, and keeping the length from the base of the cartridge to the ogive of the bullet to 1.59". That measurement was key to reliable feeding and avoiding the nose jam/bullet deformation issues. Lots of trial and error lead me to that length. It may vary per magazine/barrel/etc. But it is an important measurement to get exactly right based on your set up due to the shape of that bullet, in my experience.
---
ReadyAimDuck, what length barrel, gas system, velocity, accuracy?
---
Silent But Deadly
Posts:161
Joined:Tue Jul 14, 2020 11:08 am
16" Wilson barrel with a pistol gas system. Adjustable bleed off gas block. Runs both supressed and unsupressed.

I haven't chronographed this particular load or put the load on paper to see what type of accuracy I'm getting. I basically worked up (or technically, worked down) this load for a very cheap and very quiet back yard plinking load at 25 yards max. Once it fed reliably and stayed subsonic reliably (determined only by the sound), I called it good enough for those needs.

I also have worked up cleaner subsonic loads in the 135 and 165 range with published data for this powder that run reliably. When I can get to a more formal range I will probably try to dial those a little more in for the most accurate powder charges. Those bullets can be had relatively cheaply too. But for back yard ultra cheap/ultra quiet beer can plinking, the 115s over RL7 are hard to beat.
---
Silent But Deadly
Posts:161
Joined:Tue Jul 14, 2020 11:08 am
Come to think of it, the Wilson Barrel I've only tested down to the 135s with. I have a 16 inch pistol gas AR stoner barrel that im using for the 115s. I don't really care how dirty that upper gets, as its just a cheap build intended for what I described above. The Wilson barrel I only really shoot supers with now. But I do recall getting the 165s and 135s to run in it with a lightweght BCG and a flat wire spring and standard rifle buffer.

With most newer barrels coming with pistol gas ports drilled wide enough for subs and supers from the factory, the biggest challenge seemed to be getting these non-traditionally shaped (for AR15s) bullets to chamber. Seems like there was plenty of gas in the system. It was mostly a matter of getting the correct OAL for the particular bullet.
---