New design Reloadimizer jig for 300 AAC Blackout and Whisper with adjustable leveler to adjust for perfect cuts regardless of case taper or saws out of tolerance. 22TCM and .308 Wildcat calibers are also available from Reloadimizer Co LLC
ONE YEAR EXTENDED WARRANTY ON SAWS FROM RELOADIMIZER CO. LLC
SAWS AND JIGS ARE ALL IN STOCK!
Case Cutting and Trimming Jig with Finger Guard
$12.95 for the old style jig without stabilizer, Purchase on EBay by searching 131127139132, but I highly recommend you purchase the one below with an adjustable leveler attachment. You will not be happy with this jig or the copy cat version unless you make a shim to prevent jig slippage.
$8.95 for a jig stabilizer needed only for the older style Reloadimizer jig or the copy cat version. Purchase on EBay by searching 131117872389 or buy here.
$19.95 for a new design 300 BLK/Whisper jig with a built in adjustable leveler attachment. Purchase on EBay by searching 131118141716 or buy here. See pictures below.
$24.95 for a combination 300 BLK/22TCM/Whisper/7.62 x 25 Tokarev jig with the stabilizer, Purchase on EBay by searching 131203254511 or buy here.
$74.95 with a new saw, jig and built in adjustable leveler. Purchase on EBay by searching 141357571908 or buy here.
$79.95 with a new saw, jig, built in leveler, collection bin, spare blade and mounting board; Purchase on EBay by searching 141357570762 or buy here.
$54.95 with free shipping for the Anaconda saw only, IN STOCK. Purchase on EBay by searching 141357568164 or buy here
The saw is the model 919 Anaconda. They are properly factory packaged with labels and instructions, WITH ONE YEAR LIMITED WARRANTY. They are in stock.
I have negotiated a one year warranty with my supplier on these saws if sold by Reloadimizer.
Jig attaches to the Anaconda, Harbor Freight or Drill Master 2" Mini Cut-off or Similar Saw.
My design has been copied but it is a cheap knock off that doesn't work well. There is no support for the jig and it will slip under finger pressure causing you to lose your careful setup measurements.

PLEASE DON'T SUPPORT COPY CATS!!!!!

UNIQUE DESIGN
with an angled cut of the case bed to match the taper of the .223/5.56 case. Square cut every time.
NEW AND IMPROVED with ACRYLIC FINGER GUARD and ADJUSTABLE TAPER ADJUSTMENT.
See pictures below.
The jig is low cost, accurate, faster than the others, and it drops the cut cases neatly in a bin or bucket. Others spew the cut cases out under spring pressure all over your bench and then watch out when you collect them. They have no finger guard to protect against the open spinning blade.
Simple design, accurate, low cost and FAST! This new product is so accurate it can be used as a case trimmer. It was designed to convert Military .223/5.56 brass or steel cartridge cases into 300 AAC Blackout, Whisper or (22 TCM cases with DIY mod). Many other cartridges can be trimmed as well with DIY mod. ****************PATENT APPLIED FOR*****************
This jig requires no modification of the Harbor Freight saw, it simply clamps into the jaw. A shield is supplied with the jig which acts as a depth stop. Case length is easily adjusted by simply moving the jig position in the saw's vice. Other caliber cases can be made by simply cutting the jig with the saw and simple DIY instructions are included with the jig, or ask me for a very low cost modification for other calibers. Other calibers including .308 wildcats are available on eBay by searching for 'Reloadimizer'.
Cases are placed on the jig from the right side and held in place with your index finger while the saw is lowered with your left hand. A shield protects your fingers from the saw blade. Right hand continues to feed new cases and the cut cases slide down the jig and fall into your receptacle. The cheap 4 inch copy leaves scattered pieces all over your bench top. The $25.00 copy leaves you searching for a jewelry box sized container to catch the cut ends. Really? How hard is it to sort out the finished cases from the cut ends? The $35 or $40 jig has no finger guard and does not have an adjustment for case taper making a finish trimmer necessary.
To purchase Reloadimizer products please purchase on eBay or send a PayPal payment to
info@reloadimizer.com
I also accept checks and money orders.
Pictures AND VIDEO are posted below. Pictures can also be viewed on EBay by searching "Reloadimizer jig" . Purchase can be made by sending a PayPal payment to
info@reloadimizer.com
along with your name and shipping address but if you have an EBay account I prefer you purchase it there.
Feedback here by reply is greatly appreciated after you try it out!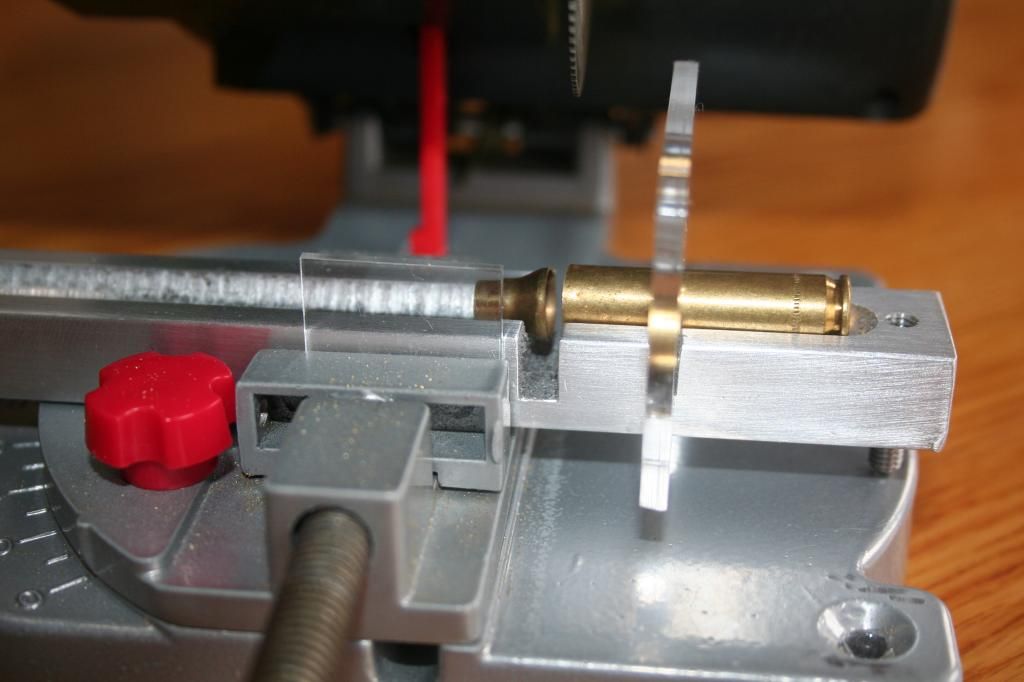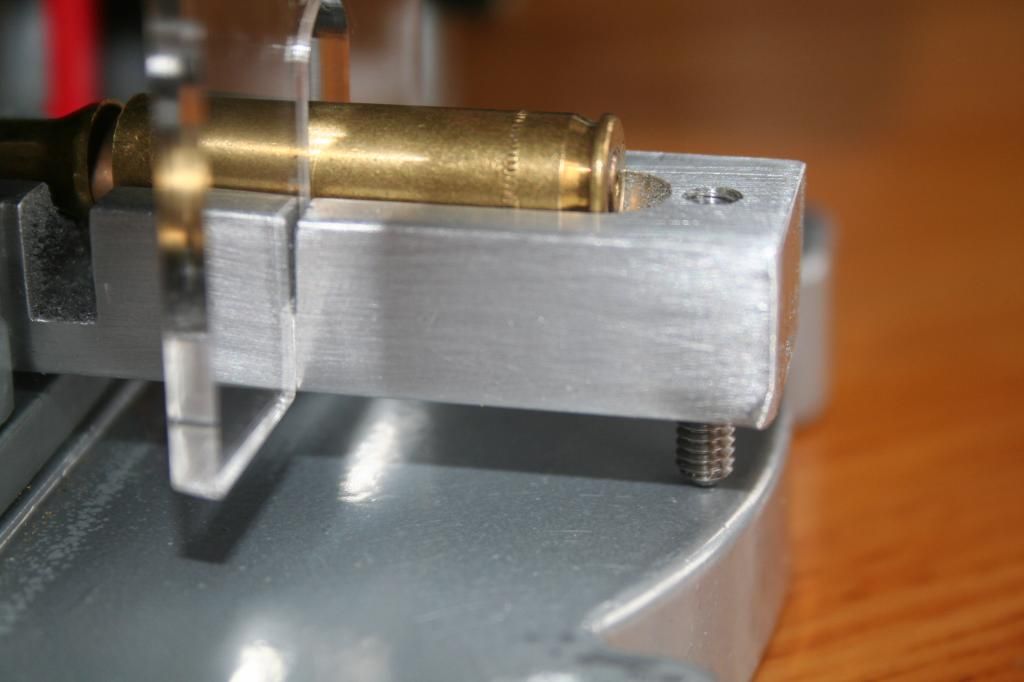 Click on the pic below to view the Case Cutting Video with the Reloadimizer Jig: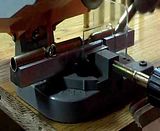 Buy on eBay or send a check or money order to:
Reloadimizer Company LLC
154 147th Street
Deer Park, WI 54007
715-248-7369
Andy