I have 300 BLK brass on hand processed from once fired Lake City (LC) headstamp 5.56.
You can send me a message to purchase, or e-mail me at
wildcatbrass@hotmail.com
The brass has been
Deprimed
Formed into 300 BLK
Trimmed to spec
Neck expanded to promote accurate ammo
Primer pocket swaged
Tumbled in stainless steel pins to clean and debur.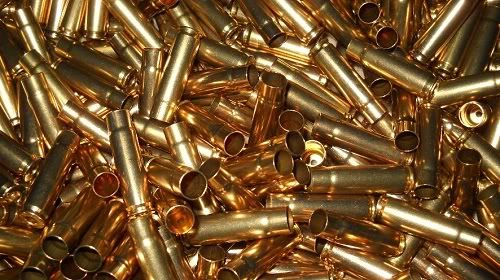 The mix of brass is about 98% Lake City. For quantities larger please contact me on an individual basis. I sell large quantities of brass to gun shops and businesses.
Payments can be made by Post Office Money Orders, Personal/Business Checks and through PayPal. Please contact me for details.
300 AAC Blackout converted brass prices
Lake City Headstamp (LC)
These are not rejects or culls this is good brass. Prices include shipping through USPS and insurance.
250 cases $35 Shipped w/ Insurance - (Ships Same Day or up to 2 business days !!!)
500 cases $65 Shipped w/ Insurance - (Ships Same Day or up to 2 business days !!!)
1000 cases $120 Shipped w/ Insurance - (Ships Same Day or up to 2 business days !!!)
Roll Sizing on 300 AAC Blackout brass. This cleans up the extractor grove and sizes the very bottom of the cartridge, ensuring there is no bulge.
250 cases additional $8
500 cases additional $13
1000 cases additional $20 (Sale $10 to roll size 1000 cases)
Annealing the 300 AAC Blackout. Bench Source annealer for consistency. Templaq used for precise temperature monitoring.
250 cases additional $9
500 cases additional $16
1000 cases additional $30
Prices include insurance. Brass is shipped Priority Mail from the USPS and is insured
I also convert brass that you may already own. For best results the primer should still be in the case and the case should not be re-sized yet. The brass should have the same headstamp to get good consistent results on headspace and case length, however mixed headstamp brass can also be converted to 300 BLK, but the results can vary. The cost to convert your brass is $50 per 500 cases or $100 per 1000 cases plus return shipping and insurance. There is a minimum of 500 cases to be converted on each order.
I can not ship brass outside the USA or anywhere the ITAR does not allow the sale of cartridge cases.
wildcatbrass@hotmail.com