A Primer on Subsonic Deer hunting with the 300 blackout.
This is simply going to be, hopefully, a help to those who may be considering Subsonic hunting. Based on my experiences as well as experiences of others who have hunted subsonic with the 300 blk. I am not the pioneer of subsonic hunting, nor do I consider myself an "expert". I just like hunting and I like guns and all the those two things have to offer. This is not the be all end all of information, but I hope for it to be a help to those that are considering it. While I may come off as being against super sonic hunting, I am not. That is how I started. Frankly subsonic hunting is not for everyone. But don't discount it without at least understanding how it can and does work. I often see posts and threads commenting on the 300 blk being only good for hunting with super sonic rounds. Without a doubt it does this very well, especially with the Barnes black tip. Often in those same threads I see comments that subsonics are not good for hunting. Well I have found that to be true and false.
Having had mostly success with subsonic hunting, and the one failure being completely my fault, I hope to show that not only is it possible, but very easy to do. This is mainly going to be filled with practical experience with a little bit if tech, stuff thrown in. I have to keep it at my level of understanding and explanation
A few things to consider. Not everything that would work using your venerable and proven .308 Winchester with your favorite 150gr loading is transferable to subsonic hunting. You may often hear the need to have 1000ft lbs of energy to ethically harvest a white tail deer. There are even a few states that have an actual requirement for something of this nature. Well in my opinion and experience that is a made up number created to justify hard hitting supersonic calibers. I have successfully harvested deer with less than 400ft lbs of energy at impact. I have often heard people suggest that subsonic hunting is comparable to bow hunting. I have found this to be true and not true, but understand my bow hunting experience is limited. My one and only bow harvest was with a crossbow at 50 yds. After I had missed 2 with a compound bow and one with the crossbow. I realized 50 yds with a crossbow is maximum distance for me, and way to far for me with a compound bow. 50 yds is just the beginning with subsonic hunting. I like to think of it more as pistol hunting with a stock.
Just a quick history of my experience. Started off with a Savage Stevens 200 in .308 Winchester with a Hornady 150gr soft point in front of 44.4gr of Reloader 15. When I did my part, I put deer on the ground in less than 50 yds. I have been present and helped to recover and autopsy deer that have been shot with 300 Win mag, 7mm Remington Mag, .30-06, .308, 280 Remington, 270 Winchester, 7mm-08, and .243, and a few more calibers my mind has forgotten. I have seen success and failures, to include 2 of my own failures. My conclusion was that it was not a failure of the cartridge or the rifle, but a failure of the shooter. Without a doubt that was where my failure was at. Another observation. Unless a spine, head or neck shot, most if not all deer still ran off to die within 20 to 75 yds with correct shot placement.
So first off understand above all, and I will stress this a lot. In my opinion shot placement is critical and paramount in any hunting, to ethically harvest White tail Deer. I place it above caliber, velocity, energy and any thing else someone will try to require for white tail hunting.
Secondly Distance. Understand that with subsonic 300 blk, the range is going to be limited not by velocity or even by drop. But by an individual hunters abilities to estimate and know range, and put the bullet where it needs to be. Me personally, I limit to 100 yds, but have actually never shot a deer past 50 yds. Yes Drop is a part of determining what distance one should take a shot at. However if you can accurately estimate distance, either by eye or by equipment and you have a ballistic table handy, Then it falls on your ability to put the bullet where you want it to go. Some will worry to death that a novice hunter will get a 300 blk subsonic and try to shoot a deer at 500yds. I don't worry about that. The reason being, that the novice ain't gonna hit nothing but dirt shooting subs at that distance.
Bullet Construction. This can create an even more heated argument then a 9mm vs .45 discussion. When the 300 whisper came out there simply was not any expanding subsonic bullets. About the time of the 300 blk introduction there were a few bullets introduced that expand at subsonic velocities. Well before that there were several accounts of successful subsonic hunting. Hunters were using mainly the 220 or 240gr Sierra Match Kings, or equivalent. These bullets were reported to tumble upon impact. And based upon autopsy photos, in many cases they did. However there have been several cases of these rounds simply punching a hole straight thru. Others have used the 208gr AMAX also with the same above results, mostly successful, but occasionally a straight thru shot.
I got into this partly cause I am contrary and partly because I am a hard head. If you are going to tell me something cannot be done, you better be able to explain to me why. Just telling me "because I said so" won't work and has not worked since I left my parents house at 18. Getting my first 300 whisper and looking up information on subsonic hunting, I realized 2 things. Not a lot of info out there on subsonic hunting, which caused people to think it was not doable. After scouring the internet and asking a lot of questions, I never could get a satisfactory answer from those that said it was not doable, as to why it was not doable. So I started working on how to do it. Testing and testing. A lot of Water jugs and wet phone books and catalogs sacrificed themselves to satisfy my morbid curiosity and general hardheadedness.
My testing is not scientific by any means. I don't have ballistic gel, or any kind of fancy equipment, just a guy who like to shoot stuff, and as old_painless from ARFCOM and the Box of Truth says, "shooting stuff is fun"
A link to some pictures
viewtopic.php?f=145&t=85568
Here is a list my experiences with the different loads I have used.
My first 2 harvests were with the 178gr AMAX at 935 fps. 06 November 2010 was my first chance to use it. Now understand I had shot a lot of this load, and it cycled my 16 in 1/10 twist carbine gas AR15, without the suppressor with 10.1gr of 1680. This was important because North Carolina had not yet legalized suppressor hunting. As stated above, I had killed a lot of water jugs, water soaked phone books, and catalogs, with the conclusion that the bullet would tumble. But I still had lingering doubt. So knowing the round was accurate. I put the cross hairs on a 6 pointers neck, that was now a 3 pointer, because he had lost an antler, and pulled the trigger. Although I will also add that I was tired that day and did not feel like tracking anything. Needless to say, he dropped. And I was hooked.
Right before Christmas that year it snowed. Well I hunt behind my house, so since this is North Carolina and we cannot handle a dusting of snow. 8 inches kept the roads closed as well as everything else. So I went out and sat in the stand. In comes 2 6 point bucks. I decided to take a vitals shot. Figured if he did not drop immediately and I did not get a blood trail then he would be easy to track in the snow. Well I put the round straight thru both lungs. He bucked up and took off. I waited a few minutes and got down. Well I was very pleased to see a tremendous amount of blood splatter at the impact site and a very easy trail to follow. 25 yds later there he was. Upon Autopsy, I determined that the round did in fact tumble. Did not exit completely sideways but the exit wound was oblong in shape.
Between the 2010 season and the 2011 season a buddy of mine got the equipment to manufacture heavy 30 cal projectiles with a thin jacket that would expand with a deep hollow point. Knowing that I was already hooked he gave me a lot of bullets to test. I set up a 180 gr at 1475 fps for a super loading and a 200gr for a subsonic loading.
That season my 14 year old daughter took her first deer, a good size doe. Using the 180gr loading.
She was about 25 feet in front of the stand, ran off about 40yds and crashed. Bullet was a thru and thru tore up the left lung and liver and looked like top of heart was damaged badly, honestly the internals were so messed up it was hard to tell, but very little meat damage, and a half inch exit hole.
Well I wanted to stick to subsonics and frankly had the great success that year.
The following were all taken by myself using the following bullet and load
200gr Prototype low velocity expander
10.1gr Accurate 1680
935fps
All of them were about 50 yds
Rifle was based on a 80% lower using various parts
Barrel was a 1 in 8 twist pistol position gas port. Not sure of port size. Actually just borrowing the barrel because the owner had not had time to make me a 1 in 8 twist short barrel yet, and he was not going to get a chance to hunt this season.
First one was a Doe. spine shot hit bone all the way thru recovered bullet on other side. Dropped on the spot. finished her with my .45. had to cut out about an inch and a half of backstrap because of damage.
Next was a small doe. High shoulder low neck. exit wound blew out left shoulder. she instantly fell. struggled to get up, limped about 5 yrds laid down for a few moments struggled to get back up, limped about 10 yds then laid down again. I waited a few moments and she looked like she was through. I got down and as I got close to her she struggled back up and limped into a thicket. I backed off and took my stuff down and to the house, and waited a few minutes. Got My son to help me track her, Started where we shot her and followed good blood trail and she was about 5 yds into the thick area.
3rd one I actually thought was a large Doe, but ended up being a descent size button buck.
Right at the base of the neck and back. dropped where he was. he was still breathing a little when I got to him so finished him with my .22 1911 top of head.
recovered bullet in left shoulder.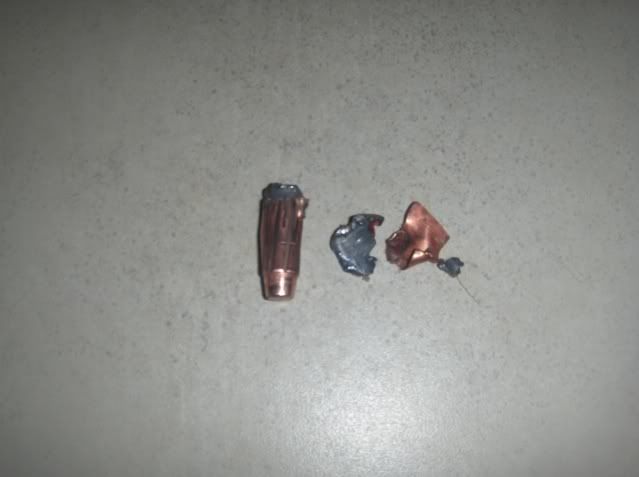 4th one was another small doe a pair came in so I lined up one and took her in the shoulder. she ran off about 30yds and was dead.
Last one that year was a mercy kill spike buck came in limping and only one antler. I actually would have let him walk under normal circumstances. His back leg looked like it had been hit with a shotgun pellet. bone was shattered and had started to heal all messed up. wound was infected. the other antler which I thought maybe had broken off had actually never started growing. Double lung and did not make it far at all.
Obviously a very good hunting year that year.
The next season I wanted to hunt with my AR15 pistol 9.5 inch barrel, 1 in 8.5 twist, and also cast boolits. Looking for a cheap effective hunting round. Got a hold of a NOE 247gr 5 cavity mold. My chronograph had stopped working, so I was going by ear that I was loading subsonic. My results in water and wet phonebooks and catalogs was very positive. However my actual results were completely different. I recovered both deer, but was not completely happy with actual results. Understand that even at subsonic velocity a cast boolit will not mushroom. I tested with straight wheel weights, a 2 part "soft point" with pure lead at the tip and wheel weight for the rest. Even tried almost pure lead for the whole bullet. Under 1000fps it just will not mushroom.
Shot a doe with this load, straight thru both lungs. I got zero blood trail. She only made it 25 yds. But the autopsy showed the round went straight thru without tumbling. And very little disruption. I was happy it worked but was concerned about the straight thru hole and no blood trail.
Shot a 6 point with the same loading and he did drop on the spot. However again the bullet went straight thru. It did hit rib going in and going out as well as just barely clip the spine. But again not a lot of disruption
Now this part is very important. I mentioned that I had did not have a working Chronograph when I worked up this load. After taking both of these, I got the Chrony back and ran this load across it. Well to my surprise the bullet was only going 850 fps. That meant that the bullet only had around 380 ft lbs of energy when it hit the deer. That is why I say the whole 1000ft lbs of energy requirement means nothing. Shot placement is THE most important part of hunting.
Well this brings us to this past season. Well my buddy was still having problems getting bullets made, but then Fat_Mcnasty sent me some bullets to test. These were a shallow hollow point with a standard thickness jacket. The theory being that the shallow hollow point would aid in getting tumbling. I tested these 220gr bullets in 3 different guns.
My 16 inch 1/10 twist AR15
My 9.5 inch 1/8. twist AR15
My brand new AAC model 7, 16 inch 1/7 twist.
First off these bullets were very accurate in all three guns, But in testing these my results differed depending on gun.
Understand the bullet did tumble in every gun, just at different depths.
In the 9.5 inch and the model 7 the tumble effect did not start till at least 14 inches. However in the 1/10 twist the bullet tumbled very quickly. Almost immediately.
Well here is where I screwed up. I was in love with the model 7 and really was itching to use it. Especially since this was the first year I could actually hunt with my suppressor. The model 7 was significantly quieter because I could use the faster burning powder. Well I had a Doe come in right as it got light one morning. Had a thick fog also. Well I rushed the shot because I was afraid she had caught me. When I pulled the trigger I knew my shot was bad, and I had no one to blame but me. I knew I hit her, because I heard the impact, but I also knew I hit too far forward and most likely missed the vitals. Did not recover her and only found a short blood trail.
This is why I so emphasize Shot placement. Had I hit in the shoulder or just behind , I would have recovered her.
Well in the midst of all my testing of stuff, I had been working on hollow pointing an NOE 247gr cast boolit and powder coating it. Using a Forster Jig and a 1/8 inch dill bit I drilled a ¾ inch hole in the tip. In testing this I consistently had the tip open up and rip off into several smaller parts and the base tumble.
Had a 9 point buck come in and but one right behind the shoulder. He bucked up and hit the ground in less than 30 yds. This boolit gave me the best blood trail I have ever tracked. In autopsy the boolit respond exactly as tested. The exit wound was well over an inch in length.
viewtopic.php?f=145&t=86301