marsh-vol wrote:
Luckyvictim wrote:
I just want to post an update and add some closure incase anyone else is going though a similar issue.

The light loading with H110 powder was exactly the cause of my problem.

Note the corrections above. Three people stated in the other thread that your loads were too light. If loads with 20 grains of A1680 make you happy, good for you. Don't blame the primary powder for supersonic loads if you weren't using it properly.
There seem to be quite a few of us happy with H110 based on the load work-up thread.
I agree, It seems to be the go-to powder for loading blackout. Good luck to you and all those loading it.
However, through testing and elimination, it was found that the H110 was the cause of the problem. The thought of a bad can of powder did cross my mind, but two bad cans... Hodgdon's Quality Control must be slipping... Either way, this was a headache.
...But, to comment on what you where saying Marsh-vol, we attempted going hotter with the H110. The round would still not cycle in my rifle (Core15 barrel) nor my father's rifle (Wilson Combat) properly. At 150gr Hornady SST loaded with 17.9g we were getting primers backing out and nasty charring on the brass. On all other brass pieces we encountered sever flattening of the head making the brass worthless to reload. With 125g Nosler loaded w/ 18.5g H110 overpressure signs were being found on the brass.
We also attempted to go the other direction with our loads. Our thought was the bolt was perhaps moving faster then it could preform its job effectively, not the case.
L1A1Rocker, Gunn publishes there 130g SOST round to have a Muzzle Velocity @2180 fps. I found it to be pretty close to that with the high being just shy of that number.
I also wanted to share something, more hard evidence if you will. I still haven't made it to the range with a Chrono, however, this last Wednesday night (5/16) I did take a chance and took my 300 w/ 130g softpoint Hornady loaded with 20.2g of A1680 out hog hunting. Absolutely no issues
, and the following is a picture of a 265lb boar I shot up near Sherman TX at a range of 60 yards.
To anyone that is considering picking up the A1680 powder to load a few, I hope these encourage you. It's a GTG powder.
*Warning, some images are graphic...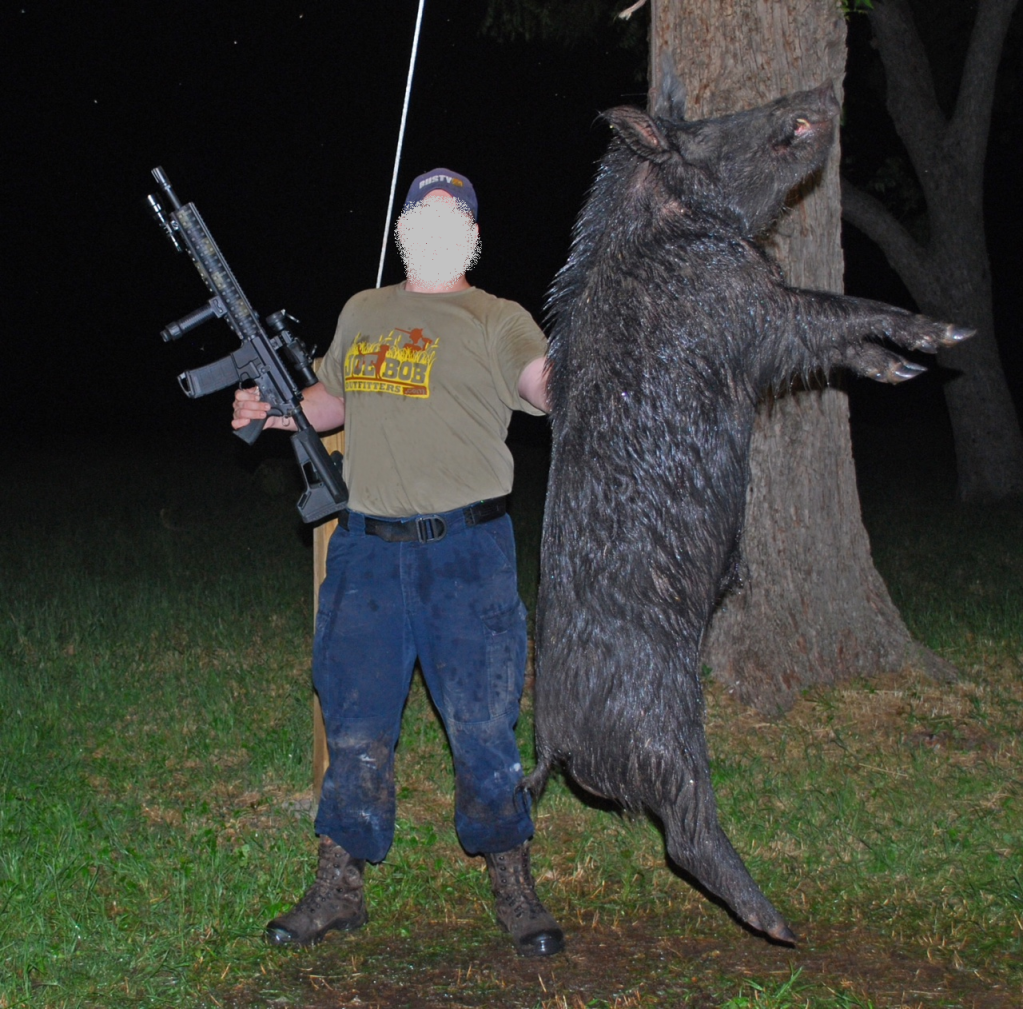 This was a thru and thru shot, and If you've ever shot a boar around this size you know just how thick and tough there hide is.
Entrance wound-
Exit wound-