A few months ago Dolomite started a project to get a heavy cast bullet. He was kind enough to send me some to test for him. I do not know if this will be the final version, I'll let him pipe in on that one.
viewtopic.php?t=99010
I got a chance to run a few through a couple rifles this weekend and they were surprisingly forgiving.
First the bullet.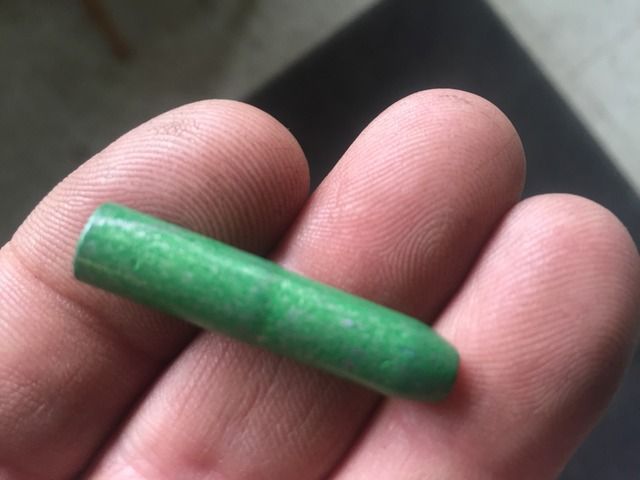 1.385" long and weighing in at 266 grains, it's about the same length as a 175 TMK.
The bullet shape/design is a little different than anything I have loaded before. I do not shoot a lot of cast in modern rifles so there are many things I don't really understand about them. There were a couple surprises for me.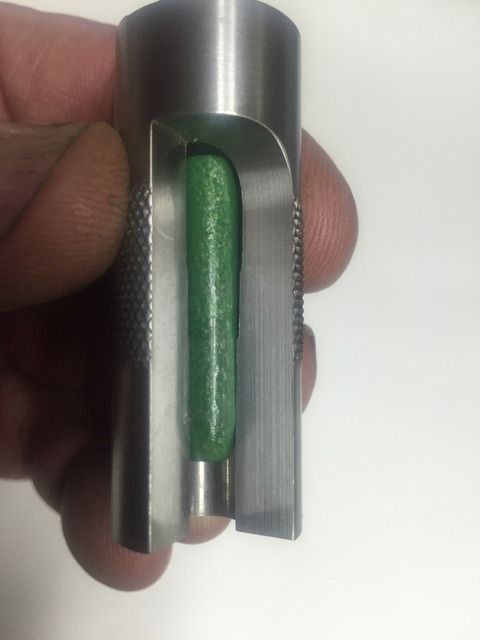 I always start a new bullet in a Sheridan gauge. It gives me a visual of how it will fit in the chamber. It's tough to see in the above photo, but if you look at the top one you can see the shape of the bullet is basically stepped, the front section is designed to ride the lands as a snug fit. Bore rider. This bullet will likely fail more chamber gauges than it will pass.
Chambering a dummy round left very slight marks from the lands, more of a polished spot on the coating. The coating was still intact.
Dolomite and some of the more knowledgable cast shooters can chime in on this type of design.
First shots to check for stability. I shot first at 5 yards and had the confidence to step back to about forty. There was a genuine worry about stability with this bullet barrel combo. A long heavy cast, shot from a 1/10 twist.
Next up was to test the stability at a fast rpm. The lower holes are from a 1/5 twist. In round numbers the 1/10 twist was spinning at only 74,000 rpm. The 1/5 146,000. A 1/7 spins it at 105,000.
All loads/brass were prepared the same, only powder and charge weight varied.
I did not use an over size neck expander, I used an aggressive chamfer. I did not see any evidence of shaving the coating. No crimp was applied.
Load data.
Remington once fired 300 AAC BLK brass
Remington 7 1/2 primer
2.145" Col
The above target is three different rifles, three different twists. All shot at 50 yards within a 15 minute span, so temp and weather was basically the same. 34 and lightly snowing and wind.
Five shots circled
18" AR 1/10 twist
9.5 grn N120
998 avg.
85 ES
35 SD
Five shots unmarked
16" 1/7 twist Micro 7 bolt action
6.7 grn N105
1006 avg.
45 ES
17SD
Five shots hash marked
8" AR 1/5 twist
7 grn N105
964 avg.
22 ES
9 SD
A note, disclaimer, excuse on the SBR group. This was the second time shooting a new trigger. I installed a 2 stage flat trigger and it's different. It's possible that the fast twist was also an issue. I will revisit that after getting a few hundred rounds on that trigger, right now I have less than 25.
The flyer in the bolt action group is an anomaly. That was the only shot in 25 that got away.
All in all I think it was a good first day with a new bullet. Running it in three completely different rifles and having pretty reasonable results. I have a pretty good idea of charge weights to work with. I think as some more experienced cast shooters get their hands on these groups will improve.
Any suggestions for me are always appreciated.