Moderators: gds, bakerjw, renegade
---
---
Just a paper puncher. .300blk is a kind of modern 32-20. Small case, a dab of powder and a ton of fun.
Savage target action, LW barrel 20" 1/10, MDT LSS chassis, XLR buttstock.
Last range session. 110y, Sierra #2110.
---
Updated picture of mine
10 shots
---
Member
Posts: 21
Joined: Fri Jul 24, 2015 5:25 pm
I'll play...here's mine.....have did the following..
recrowned barrel...added flash hider....clipped trigger spring...now 35 oz...
going to redo & get just under 2#...sanded barrel channel..filled butt stock with
foam...added Vortex DB HP 2-8x32...using Fed 13 & LC reformed brass GCG brass
Also Glade tact handle.......great handy rifle......
---
Silent But Deadly
Posts: 1027
Joined: Sat Oct 18, 2014 7:53 pm
Location: Connecticut
Nice!

I have been looking for light bucket 1680 data

CW
RARR 300 BLK
Ares SCR 300 BLK
TROY "other" 300 BLK
DSI based build w/18" 300 BLK (Neutered fixed mag)



I PROUDLY SUPPORT LAW ENFORCEMENT & OUR TROOPS!!
---
Remington/AAC Micro 7.
34.5-inches long.
6lbs, 11.7ozs.
Weaver V3 in Weaver low rings. (Second picture. First shows Burris high rings, which I replaced.)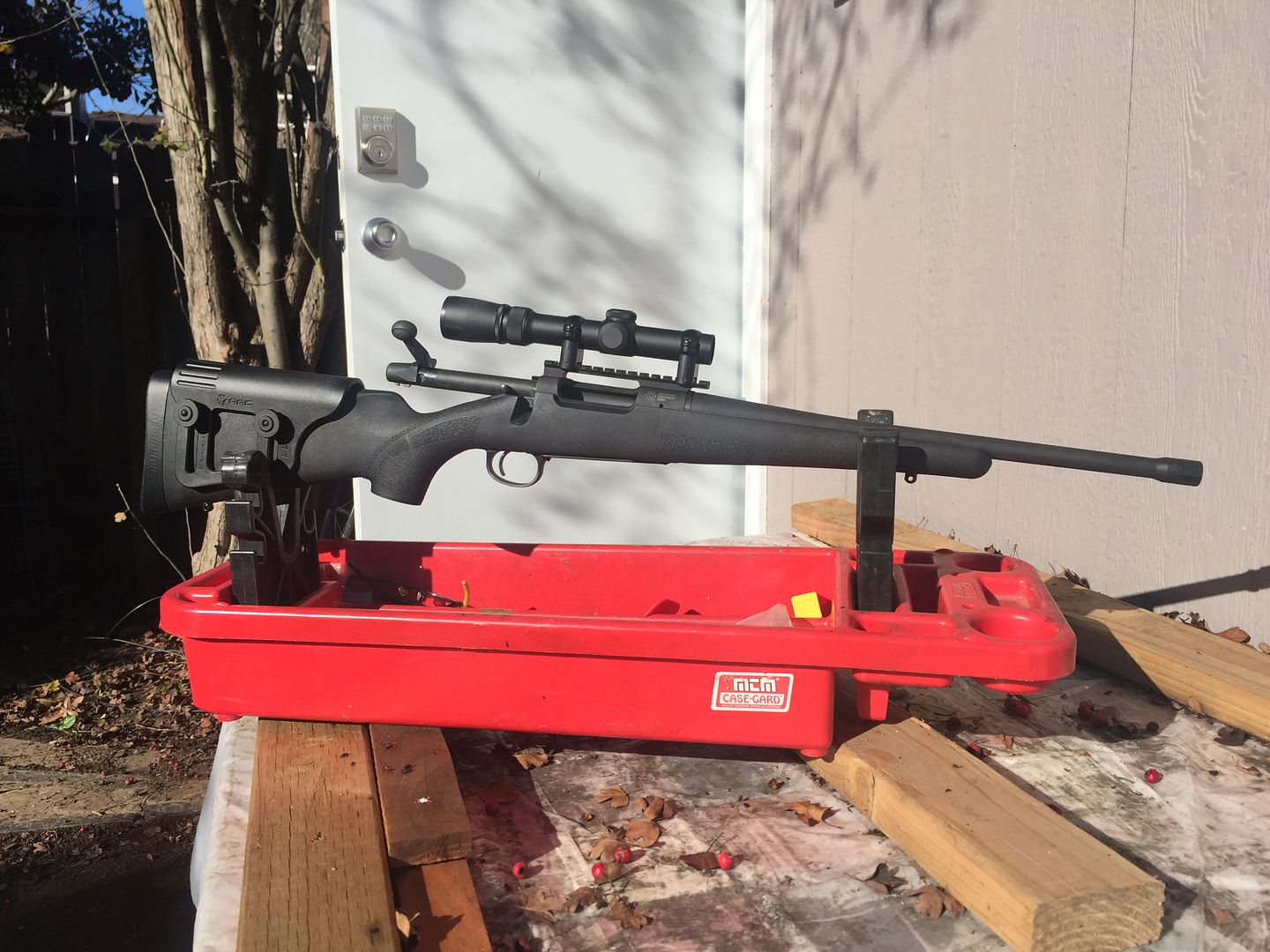 ---
I posted pics in a recent post I did but then found the official picture thread...
It's a RARR 300blk with a Vortex Viper 3-9x40 and a Harris bipod. I've only had it about a month and only put about 85 rounds thru it so far. I can't take credit for the cerakote, etc. as the prior owner did that to it himself. I think he did a great job. Not sure how accurate it is yet as I've only used the scope at a 25 yard indoor range. The rest of the shots were fired "into the snow" at distance to check for malfunctions, feeding, reliability, etc. So far so good other than one brand of reloaded ammo that I get a fail to fire about 1 in every 10 to 15 shots. All other ammo brands and reloads are working 100% so far. I wish I would have had this rifle when I was getting my girls into hunting. I set them up with a Mini-14 in .223 years ago but this would have been better all the way around.
---
Changed some things around:
Remington 700, 300BLK
Magpul hunter 700 stock and bottom metal.
Stalon Whisper suppressor
Vortex Viper HS-T 4-16x44 scope.
---
How do you like the magpul stock so far?
---