Personally I would never enter a 300 yard competition as it requires me to drive well over an hour to get to the nearest place I can shoot that far. Matter of fact the nearest 200 yard range is about the same distance but the other way. That is the biggest reason why I haven't shot in these as of yet because it requires a significant amount of preparation and planning to make the trip to the range.
There are other ways to prove how well your gun and you shoot without the need to shoot 300, 200 or even 100 yards. There is something called the Black Death Challenge and it was invented a long time ago, definitely long before the current racial problems we have, otherwise the name would have been different I am sure. Rather than explain it is it just better to post the target for all to see. Basically you want to remove the center dot without touching the black border around it. And the circle you stay inside goes from a 1.5" circle to a .5" circle.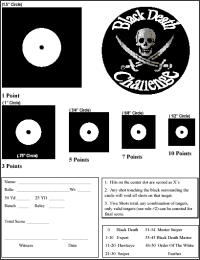 You can read the rules and get the target above as well as a practice targets.
http://toyfj40.freeshell.org/GunPix/BlackDeath.html
And the best part is this target is extremely challenging even at 25 yards.