Been gathering parts and it's finally starting to come together!
Plan is for a light, compact walking rifle. sporter stock, 18" threaded barrel.
Want to be able to take deer at reasonable distances, varmint control (suppressed subs) and possibly some local offhand shoots.
Just go the action back from a T&T and couldn't be happier with it- very smooth and trigger is absolutely amazing- Fred at SSS does great work.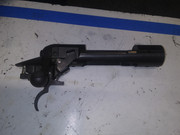 More pics and updates to come!